The purpose of a business strategy
Your company's future depends on a winning business strategy. The primary purpose of a strategy is to connect your mission, vision, and plan together to determine your purpose, what you want to achieve, and how you will achieve your goals. Once you have connected these things, you can begin to craft a business strategy that will give you a direct path to where you want to take your company.
What a winning business strategy should include
One of the best ways to create a winning business strategy is to create a pyramid. At the top is the overall goal you want to achieve (like "Build revenue growth by 15% each year over five years). Then define how you get there, and build the pyramid down, focusing in each time on very specific goals that can lead to the next step of the pyramid. Here's an example:
Include incremental goals that have quantitative and qualitative metrics to determine successful completion of the goal. Each time a goal is achieved, re-examine the next steps to see if adjustments need to be made. Using the pyramid can help you see the steps you need to take to get to the high level goal.
One of the most crucial aspects to a winning business strategy is an assessment of risk: operational, strategic, financial, and reputational. Don't forget to address what risks you see may affect the strategy and install processes or technologies to mitigate these risks.
Tips for building a winning business strategy
You can supercharge your business strategy with these steps for building a strong plan:
Creating a company vision as well as a personal vision for what you want to fulfill within the company is critical for a winning business strategy. It is the foundation for all future decisions, so take time to determine where you want to head and what you want your company to be.
Conduct a SWOT analysis so you can assess where your business currently is. From this, you can make better predictions for its growth.
Establish short-term goals that can be completed within the next three years. Use the S.M.A.R.T. goal method to determine if they are achievable.
Go beyond the talk and planning by creating an action plan that details what steps will be taken to achieve your goals. Make sure it is specific, has defined responsibilities, and clearly outlines deadlines.
One of the most important parts of a business strategy is review. Strategies need to be reviewed regularly to ensure they are still relevant and progressing. Meeting with those involved regularly to see what is working and what isn't, then come up with ways to modify the strategy to ensure it is aligned with the end goal.
You don't need to go it alone when it comes to strategy. Create a team that will help with the various phases and keep you and others accountable to their role within the action plan. The best team composition will consist not only of executives and management, but also of employees who are passionate about the company and its vision.
Gauging the success of your business strategy
Sometimes it takes a while for a strategy to work. Goal attainment is not always the best way to gauge strategy success. Start by ensuring you are always looking at up-to-date data. Then choose between three and four KPIs for each team. Have regular meetings to check the status of the KPIs and see how their completion aligns to the goals of the company. Finally, select important milestones and hopeful dates of achievement. You will know you have a winning business strategy when you are regularly reaching your milestone and KPI goals.
For more help regarding Business Strategy, Employee Engagement, Performance Management, Leadership and Executive Coaching and Development, and all things "HR," The Pendolino Group is here to support you and your team. Contact us today!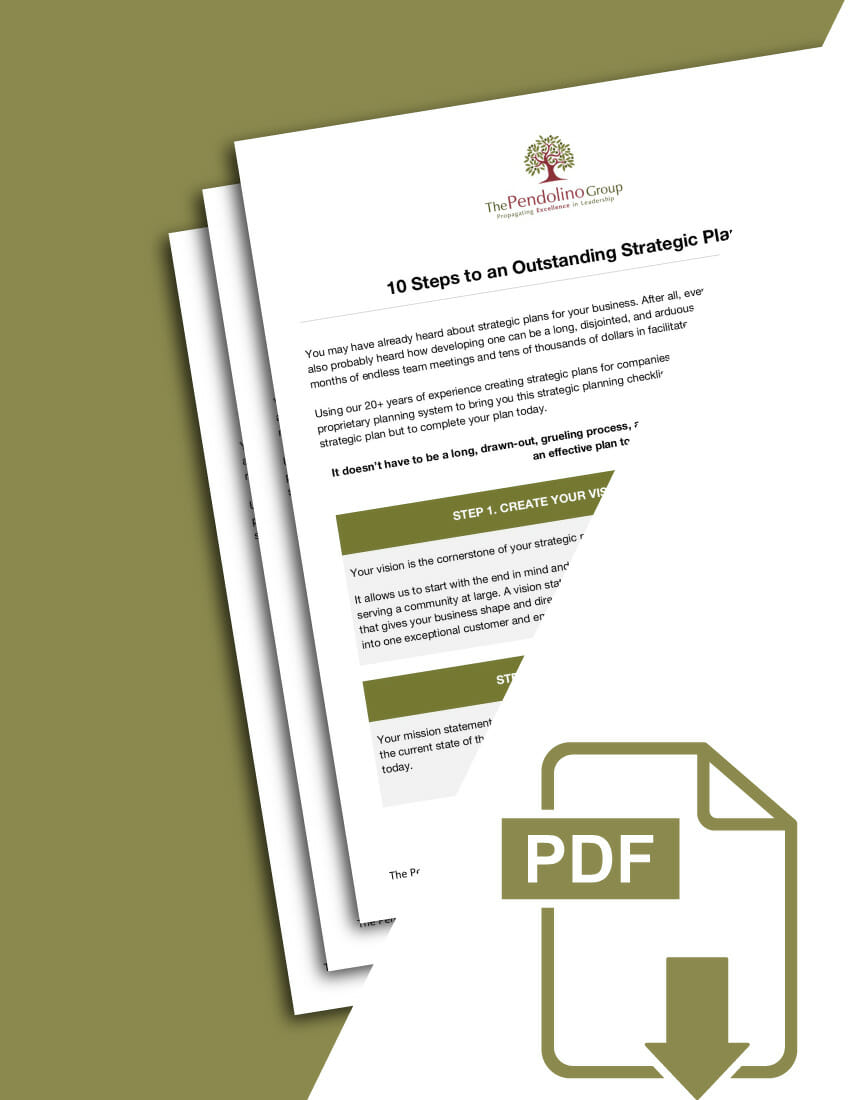 Get your free copy of
10 Steps to an Outstanding Strategic Plan
Strategic planning doesn't have to be a long, drawn-out, grueling process. We'll show you the 10 steps to create an effective plan today.
Just sign up below.
Using our 20+ years of experience creating strategic plans for companies of all sizes, we've streamlined our proprietary planning system to bring you this strategic planning checklist to not only get you started on your strategic plan but to complete your plan today.