Can you have strategy and planning without culture?
You can have a strategic plan, but culture is what executes the plan. Your company culture defines the values and behaviors that your workers display when carrying out your strategic plan.
Can you have culture without strategy? You can have values and beliefs that direct employee behavior, but without a strategy to properly utilize that culture, it can't possibly get results for your company. Strategic planning and culture are intrinsically connected. It is possible to have no plan and it is possible to have values and behaviors you believe in. However, the best way to affect change and drive progress in your company is to create a well-defined plan that will drive deep-seated values and beliefs each worker can get behind and champion.
What is strategic planning?
Thanks to technology, most people don't go anywhere without using their GPS. Your company must treat your street strategic plan as the GPS. But GPS isn't perfect, and that's where culture comes into play. How will your employees perform when the map leads them to a roadblock?
Imagine you are placed in an unfamiliar city that you've never visited and given a GPS-enabled phone. You were told you must get from Point A to Point B. At the end of your journey, you will find a $100,000 prize in a storage locker.
How do you get there? What behaviors are going to affect your trip? For example:
If it's a particularly long journey, will you stop and get food on the way?
Do you need a cup of coffee before you can start?
Do you only believe in taking right turns?
Does it make more sense for you to start and not stop until you get to the end or do you follow the philosophy of the tortoise—slow and steady?
These are all behaviors that will define how you get to your destination. Similarly, in business, strategic planning defines how you get to your end point. Strategic goals and company culture are the cause; the effect is the result of combining them. Let's look at what happens when you have no plan, a poorly crafted plan, and a clearly communicated strategic plan using the $100,000 prize analogy.
No strategic plan
So, you are plunked down in the middle of the city that you've never visited with only a GPS enabled phone and an address on Market Street. You have no plan. You know you can use your GPS, but you don't know how long it will take until you plug the information into the GPS. Once you do, you gain insight into the journey. On foot, it will take five hours to get to your destination. You wonder why you would need planning when you were given GPS.
You know your end destination and you start walking. As you're walking down the road, you come upon construction. The lane is blocked. Your GPS didn't prepare you for this. Now which way do you go? Your values and beliefs in solving this problem will determine if you're going to go left, right, backwards, or give up. Strategic planners would have a clearly defined plan for this intersection of value system and destination. But you didn't plan.
This is how it is in business with no strategic goals. You are not agile when road blocks hinder your progress. You must stop, and your company culture ultimately decides where to go next, which may not always be the best for your organization.
So, you turn right. You aimlessly wander for a few more blocks. Your stomach starts to rumble. Intuitively you tuck into the nearest restaurant. You reacted this way because it seemed like the natural thing to do. You had not planned for what would happen if you got hungry. Now you're sitting in a restaurant eating, and the other people racing for the money are passing you.
In business there are many roadblocks and distractions, but you can't always chase after things that don't achieve your mission and vision. The organization with no strategic plan falls behind and becomes a laggard. Because even if you have ingrained beliefs that dictate how you run your business, without a proper business plan strategy you will not be prepared for innovation and change in the marketplace.
Poorly crafted strategic plan
Poorly crafted planning is almost worse than no plan at all. Here you are at the starting point. You know your goal. You take the phone with GPS, set it down on the curb and you say with much bravado, "I can do this myself. I don't need these planning tools!"
Then you walk up to the person closest to you and ask for directions to Market Street downtown. The person draws you out a somewhat confusing map on a piece paper. Their chicken scratch is all you need, you think, and you start walking. You get to the intersection of Customer Satisfaction Road and BPM Boulevard. You look at your map to decide which way to go.
But the map doesn't show BPM Boulevard and Customer Satisfaction Road together. The map shows BPM Boulevard at the corner of Automation Lane. So now you're stuck and using a strategic plan based on someone else's idea, which isn't helpful for your situation.
So, you ask another person for help. They say, "No, no, no. This is all wrong. I don't know who you got this from. Let me fix it." They flip over the one planning tool you've picked up and they draw a completely new one. This map has Customer Satisfaction Road and BPM Boulevard converging into the same lane two blocks away. You're back on track, you think. You take a left down BPM Boulevard and eventually you come to the point where Customer Satisfaction and BPM merge.
Now you're doing pretty good. You're definitely headed to Market Street. Suddenly, Customer Satisfaction and BPM end and you're looking at a one-way street called Employee Engagement Way. You look at your strategic plan that someone else drew, but you don't know which way to go.
Your strategy and planning that relies only on the locals has failed you. You've pulled in too many resources, with too many ideas, and attempted to fit that culture of ideas into your plan instead of defining what can help you specifically in this situation.
Your employees need to know that leadership is personally vested in the strategic plan. They need to know that the plan is a part of the company culture. Without a thoroughly considered, detailed plan, your employees won't know what your distinct brand is, and they cannot champion the brand to the market.
Clearly communicated strategic plan
So, how do you get to your goal? How do you get the $100,000 on Market Street?
You start with your strategic planning tools. Pull up your GPS, insert the data, it gives you the insight you need. It will take five hours on foot. It's morning. You haven't had breakfast. You haven't had coffee. You know there is no way for you to get to your destination without these essential nutrients. You also know that walking five hours without water to hydrate you is dangerous.
Luckily, you're right next to a grocery store. You duck in there, you pick up a small backpack, snacks for the trip, and a refillable bottle of water. While you are there, you show the grocery clerk the GPS and ask if there are any roadblocks that might be on the path. The clerk tells you that work is being done on Employee Engagement Way, and Customer Satisfaction Road is backed up due to an accident. She suggests you avoid that area and take Strategic Plan Drive instead.
Your chances of reaching the $100,000 are now better than the other two with no planning and a poorly crafted plan. You've utilized the assistance available to you. You gave yourself a solid foundation to start from, then you had another person, who knows the area better, help you in the strategy development.
Though it took you a minute to put the plan together, you now have laid the groundwork for completing your mission.
This is how are you must treat your planning and how it links with your company culture. As Lt. Becky Bailey says in her case study, Transforming Organizational Culture through Strategic Planning, "In the absence of a formal strategic plan, the organizational culture generally determines its direction."
Your belief that it was a priority to start the mission with a solid footing impacted your behaviors as you executed the plan. That passion for proactive behavior trickles down to your employees and creates a culture that exudes the strategy you created.
For guidance regarding Constructive Feedback, Performance Management, Employee Relations, Leadership and Executive Coaching and Development, and all things "HR", The Pendolino Group is here to support you and your team. Contact us today!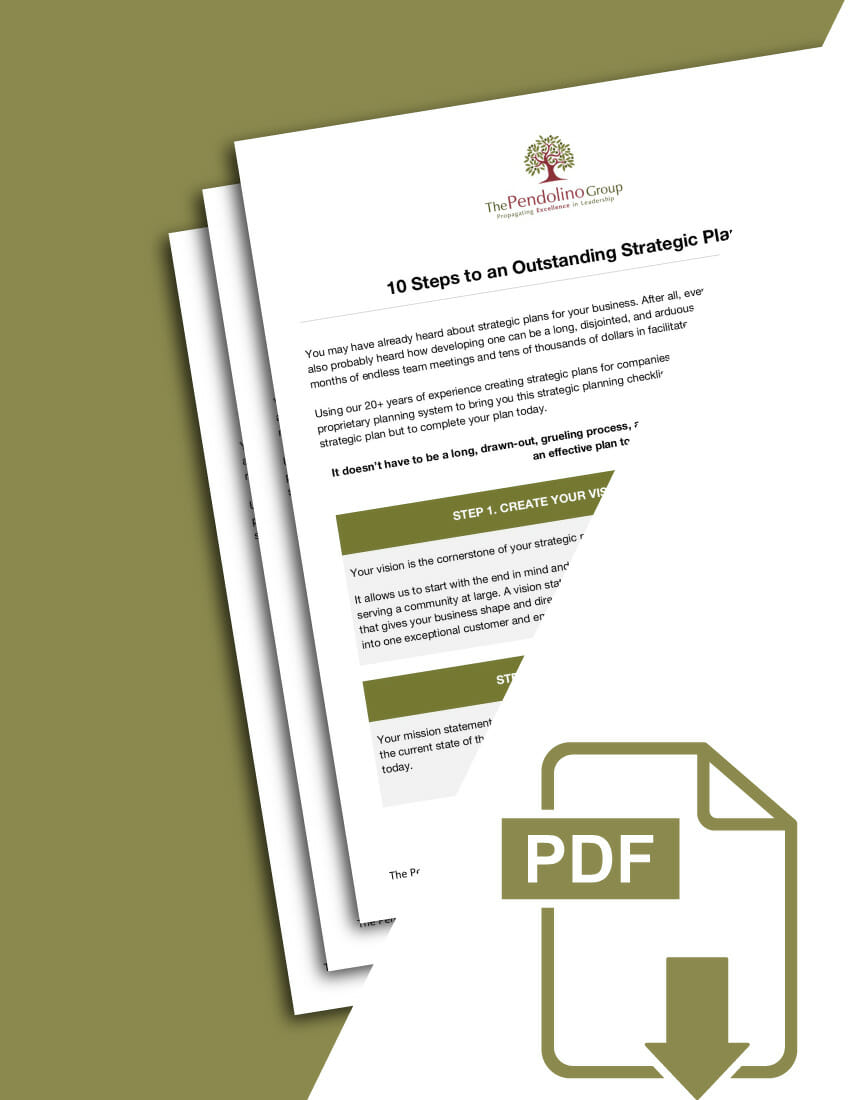 Get your free copy of
10 Steps to an Outstanding Strategic Plan
Strategic planning doesn't have to be a long, drawn-out, grueling process. We'll show you the 10 steps to create an effective plan today.
Just sign up below.
Using our 20+ years of experience creating strategic plans for companies of all sizes, we've streamlined our proprietary planning system to bring you this strategic planning checklist to not only get you started on your strategic plan but to complete your plan today.